Our next MSM event!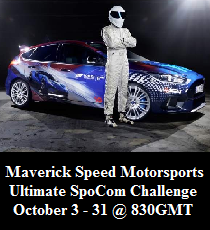 Now I been wanting to run this series for a while. But haven't really had the time with all the other series we been doing, but since FM4's life span is coming to a rather quick end, now is the best time to get it done. 
Instead of using the actual 458 Challenge Car, with it being DLC from being VIP/Buying the LCE edition of FM4. Unless it is highly requested, we will be using the 2010 Ferrari 458 Italia. I will try my absolute best to tune it to the exact specs of the actual car. Like always, it will be a spec build series, but you can tune the car however you please. 
The only thing I will need your guy's help with is simple, time, we are lacking ALOT of people here in MSM as of late, and the last time I ran a weekday series, it was the BMW M3 GTS Series, but with it being summertime, hopefully I can run this during the day so where I can get both UK and US members to battle it out on the same turf, so in the comments below, let me know what time and day you wanna run, and I will do my best to accommodate everyone.
Upgrades and Car Restrictions
Spoiler:


This will be a spec build series on the 2010 Ferrari 458 Italia. I will gift you the build along with all paint livery requirements. There will be no allowed changes to the build, but you are allowed to tune the car to your own wish. Tinkering with the build will result in Automatic DQ.

Livery Requirements:
Spoiler:


There will a Pirelli and Sabelt logos along with an official number board that will be required to be on cars at all times. Failure to have 1 logo will allocate 30 seconds penalty to your overall time. Failure to have 2 logos or the number board on your car will result in Automatic DQ.

Events:
Spoiler:


Event: Italian Grand Prix
Track: Mugello Grand Prix: 15 laps
Date: Thursday: July 25th, 2013: 7:00 PM Eastern Time/12:00 AM UK

Race 2:**
Event: German Grand Prix
Track: Hockenheim Grand Prix: 17 laps
Date: August 1st, 2013: 7:00 PM Eastern Time/12:00 AM UK

Race 3:
Event: Spanish Grand Prix
Track: Circuit De Catalunya: 15 Laps
Date: August 8th, 2013: 7:00 PM Eastern Time/12:00 AM UK

Race 4: 
Event: Japanese Grand Prix
Track: Tsukuba Circuit: 29 Laps
Date: August 15th, 2013: 7:00 PM Eastern Time/12:00 AM UK

Race 5: 
Event: United States Grand Prix
Track: Road Atlanta Circuit
Date: August 22nd, 2013: 7:00 PM Eastern Time/12:00 AM UK

** Race 2 may be ran on August 2nd as my mother's birthday is on August 1st, I will keep everyone posted

Standard MSM rules apply for the races like always for both painting requirements/race number and the rules of the road. However there will be a number board/ Pirelli tire logo requirement(I will, along with the build of the car, gift them out to anyone who wishes to enter.
Last edited by CallMehDarkside on Mon Jun 17, 2013 8:03 pm; edited 1 time in total
_________________________________________________
[Only admins are allowed to see this image]
Why the hell not! I have been waiting for a midweek series


Plagued Almond




Race Number

: 18



In and will try to bring more with me.

Flyin Mikey J





Bobbo, this sounds like a good series, but it's on too late for me unfortunately.

RippednTorn




Race Number

: 9




---
Permissions in this forum:
You
cannot
reply to topics in this forum