Our next MSM event!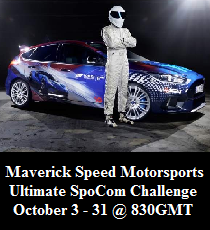 I know alot of people have been very "iffy" about Project CARS as of late due to the fact that it's gonna be on PC, PS3, and Xbox One(with the original plan was to be on all 3 plus 360 and PS3). However Dom and I have raised some concerns because it is made by the same people, who helped EA create the Need For Speed Shift Series. Dom and myself both played Shift 2 and to say the handling physics were wonky was an understatement. I remember racing a Lambo LP640 around Road America and LITERALLY did a 4 wheel drift at 120 miles per hour around the first corner and that was really when I said to myself "They call this a racing simulator?".

Anyway, this brings my attention to project CARS. I have been following the videos and the updates of this game since Day 1, the graphics are absolutely amazing, but one thing I noticed is that they never show proper racing videos, all they show are replays of the cars they drive around the track for about 5 or 6 minutes. So you dont really see what the car is doing, what speed are they entering the corners etc etc.

Another thing I noticed, they don't have the "track names" rather they have the locations of the track meaning on where at in the world they are located like below

Northampton(Silverstone)
Eifelwald/GP(Nurburgring)
Elkhart Lake(Road America)

So I was just wondering, of the people here on MSM, how many of you would at least attempt to try Project CARS? I am willing to gamefly it and sorta be the guinea pig when it comes out, but with Halo 5 and the Master Chief Collection coming out, it may be a stretch for me, but who knows yet.

Comments below, if you are interested in looking up some videos, just go to YT and type in Project CARS, they have a shitload of videos up, specifically from MotoGames TV
_________________________________________________

Will definitely be getting it. From what I understand and have been told by people who have access to the PC alpha is that the physics is nothing like the shift series and that resulted due to EAs involvement and the fact that it was a NFS title. This physics discussion is one that has appeared a few times in development of the title and from what I've seen it's not shift physics, seems to be somewhere between forza and iracing. Also the track names at the moment are only appearing that way because of licensing reasons for the alpha, in videos of Northampton "SILVERSTONE" and the track logo can been seen prominently.

hillcrest34





Most of the videos are PC build.  There have been no videos of XBone with Project Cars.  The console release might be in November, and that's if there are no delays.  Let's wait and see what actually makes it to the console before making any plans.
_________________________________________________


Dominic Mako

Admin





Race Number

: 32



careful, no painting, can only tune bits already on car and nothing else can be added.

as its out on all consoles its released to the worst spec.....the game will be like forza without the tuning and painting

d4ninho






---
Permissions in this forum:
You
cannot
reply to topics in this forum