Our next MSM event!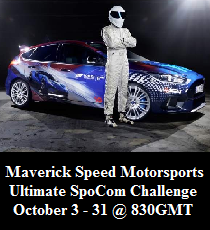 I thought this might be a good spot to share some advice or experience with the controller and wheel set-ups people find helpful in the game.  I've copied mine from one that was posted on TORA, which I think was coped from someone else.  

First, I used the clutch and manual gearing.  I find if I shift and then release the throttle and get back on really fast, it won't over rev on shifting up.  It takes a little timing and an ear for the engine note.

Anyway, here's my config.  A lot of this is default:
Steering deadzone: 10
Steering sensitivity: 0
Throttle deadzone: 0
Throttle sensitivity: 30
Brake deadzone: 10
Brake sensitivity: 15
Clutch deadzone: 0
Clutch sensitivity: 40
Speed sensitivity: 60
Controller filtering sensitivity: 50
Damper saturation: 0 (locked?)
Force feedback: 90
RPM/Gear display: yes
Controller input mode: 3
Advanced: off (I think these are just extra assists)

As far as controller assignments, I've got the clutch on A and up/downshift to X and B.  Throttle RT and Brake LT.  I put headlights and wipers on the up and down dpad.  Because I tend to accidentally nudge the right stick when shifting, I put look down on the down of the right stick and look back as up on the right stick.  I put ignition and engine start on the left and right stick buttons, since you almost never use them until you stall.  So there you go.
_________________________________________________


Dominic Mako

Admin





Race Number

: 32



Ok guys, here is my setup:

I am using AUTOMATIC Clutch with MANUAL Gearing, still forces me to change gear, not getting super fancy with the clutch just yet.

Steering deadzone: 25
Steering sensitivity: 0
Throttle deadzone: 10
Throttle sensitivity: 0
Brake deadzone: 20
Brake sensitivity: 10
Clutch deadzone: 10
Clutch sensitivity: 45
Speed sensitivity: 65
Controller filtering sensitivity: 65
Damper saturation: 0 (locked?)
Force feedback: 50
RPM/Gear display: yes
Controller input mode: 3

Advanced: ON

Opposite Lock Help OFF

As you can see, there are some pretty big differences between Dom and Myself regarding controller setup.


---- NOTE: I have found that the MERC's and FORD's become drivable if you SLOW down the steering INPUT in your cars tuning setup.

The Sierra COSWORTH was completely un- drivable until I set the Steering input to 12:9.XX---

It made a huge difference.

I still think I have to tweak my throttle setting, im not able to feather it through corners as much as I like, but I will wait until patch to really start messing with it.
_________________________________________________


Clark GriswoId




Race Number

: 3



Im using stock setup.  Only assist is stability and traction

Formula rookie and the ford escort are drivable

Go kart not so much lol
_________________________________________________

RetPetty

Admin





Race Number

: 7



Some resources I've been looking at:
http://forum.projectcarsgame.com/showthread.php?21992-Setting-up-a-gamepad
http://forum.projectcarsgame.com/showthread.php?23153-Xbox-One-Controller-Configuration-Guide
http://cqrclub.co.uk/forum/page/1/m/5201082/viewthread/19375203-project-cars-xbox-one-pad-settings
https://www.youtube.com/watch?v=2JWNiwIhq68
https://www.youtube.com/watch?v=0bOKqwqh8KU
https://www.youtube.com/watch?v=fdFvhDv9Kds

Om3ga73





and it`ll all change once the patch is out

 heheh
_________________________________________________

RetPetty

Admin





Race Number

: 7




---
Permissions in this forum:
You
cannot
reply to topics in this forum