Our next MSM event!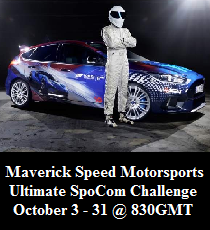 Hello Everyone,

It's been quite some time since we've had a member created series, running alongside our official MSM events. I'd like to bring these back with Forza 6 launching on Tuesday for everyone. I know there are a good amount of members waiting to pick up the game on release day. As such, I realize that you'd like to have time to get used to the game, and explore all that it has to offer. 

Now to the good part...

I'd like to get your guys' thoughts on this: I'd like to have an SCCA-Style series. I'm still working on all the details currently, as I want to make it as true to the SCCA as possible, while still staying within Forza's limits. 

All I want from you guys, is just your input on if this interests you, or any other ideas you may have in regards to member created events.

Plagued Almond




Race Number

: 18



We need to run Daytona Oval on every series we run, It's super easy to drive on. Even in low grip high HP cars the banking just keeps you planted in and running side-by-side 5+ wide on the backstraight and 3 in the banking is epic. The draft is fixed from F5, you can glue yourself to a bumper and not understeer into the walls. As far as cars we've got a great base selection, I'm thinking start with a single car spec series so we can get to racing while you sort out an open series. The WTTC, BTCC and V8 cars would be a good start: same car, stock upgrades and never run Rio......it'll be nonstop pitting running sim damage.

_________________________________________________
Call me Bacon.

Becoll




Race Number

: 72



I`ll be down for anything. prefer stock series so we all on an even level
_________________________________________________

RetPetty

Admin





Race Number

: 7



I was looking through (and purchasing) the Aussie V8's just to see if they were matched like how they were in FM5. The Volvo, Nissan, Ford, Mercedes-Benz, and Holden, are all nearly identical in every way. Based on you guys, would you be interested in running a V8 series? The whole premise would be that all the cars would have to retain thier S785 PI with no upgrades. Basically race them as-is. I wouldn't have any special requirements for this series regarding liveries. If you want to paint your car, that's fine, if not, no worries, all I ask is that if that becomes the case, make sure you don't use the same livery as another person. 
This is just an idea, and as of yet, nothing has been finalized.

Edit: I did some testing with the V8's around Mount Panorama. Each car was given two laps. Times are as follows:

Volvo S60 Polestar V8: 2:15.564
Mercedes-Benz E63 AMG V8: 2:15.618
Ford Falcon FG X V8: 2:15.760
Nissan Altima V8: 2:15.903
Holden VF Commodre V8: 2:15.111

Plagued Almond




Race Number

: 18



Since TURN is going to be hosting their own Aussie V8 Series, I'm going to put this idea on hold. However, would any of you guys be interested in a series with the 2014 Toyota Avensis and the 2014 Audi S3 Saloon Racecars?

The Builds are as follows: 

Toyota Avensis 
PI S798
Specifications: 
Engine Upgrade:
Race Intake
Race Pistons/Compression
Race Intercooler
Remove Restrictors
Platform and Handling:
Race Brakes
Rires and Rims:
Front Width 275/35R18
Rear Width 275/35/R18

Audi S3
PI 797
Specifications: 
Engine Upgrades:
Race Intake
Race Intercooler 
Remove Restrictors 
Patform and Handling:
Race Brakes 
Tires and Rims:
Front Width 275/35R18
Rear Width 275/35R18

I also did a two lap test with each vehicle around Road America, times are as follows: 

Toyota Avensis  2:15.2xx
Audi S3            2:15.1xx 

As you can see both cars perform extremely competitively against each other. 

Also, please note that those are the required builds if I decide to run this series. I will also require that you adequately display your racing number. There are no required decals for this series.

Plagued Almond




Race Number

: 18




---
Permissions in this forum:
You
cannot
reply to topics in this forum