Our next MSM event!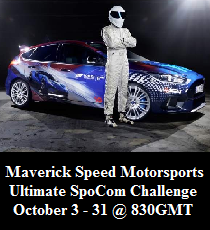 As people start to get their grubby hands on Forza 6, I'm sure ideas will begin to form regarding the type of series you'd like to join. Feel free to post your ideas in this thread regarding cars, tracks, day/night and weather, as well as racing formats (such as multiple sprint races or longer endurance events).
_________________________________________________


Dominic Mako

Admin





Race Number

: 32



To get this kick-started, I was thinking with tracks that have both day and night or clear and rain, we could run two races the same weekend on that track. For example, we could do a short 10 lap race at Sebring in the rain, then follow it with a longer 20 lap race in the clear.

Anyone who's been on MSM a while knows I love taking low cost cars and throwing them into a series, and since those are easy to drive, that might make for a good first series.

I saw Fam wants to run his own Aussie V8 series, so I'll leave that to him.

It may be a while before we get BTCC or WTCC while it's determined how balanced those cars actually are.

Also, if TURN or TORA are running a particular series, we probably won't copy that at the same time.
_________________________________________________


Dominic Mako

Admin





Race Number

: 32



I am game and I will try to make myself available
_________________________________________________


Clark GriswoId




Race Number

: 3



Dom, just name it and I'll be there. I'll do whatever, on whatever and in whatever.
Just want to get back to racing each weekend, keeps me out of trouble.

RippednTorn




Race Number

: 9



In general I like to replicate real life racing series, it adds a little extra flavour to the experience. Also a big fan of a spec series now and then. Here's some ideas:

- Trans Am under 2.0l class (seventies). While we did the main class trans am racing in FM4, the under 2.0l class also looks interesting and has several main cars included in game. This is racing in the lower classes, i suspect D class. Possible cars are: Datsun 510, BMW 2002, Ford Lotus Cortina, Ford Escort RS1800, Lancia Fulvia, Alfa Romeo Giulia GTA, VW Beetle, Mini Cooper.

- Formula Ford spec series. Single seaters that don't have the terrifying pace of the top classes, so less crashes and more exciting position battles.

- VW Scirocco R cup. I'm a bit biased on this one as I organised it in FM4 but it was really fun to me then. Based on the real life German racing series (supporting series for the DTM weekends), it also gave close racing in Forza with a car that was fun to drive.

- A series in the cigar cars of the '50s would be nice too.

- X vs Y showdowns (BMW vs Merc, Viper vs Corvette, Mitsu vs Scooby,...)

- 1980's group 5 racing 4th generation (BMW 3.0 CSL, Ford Capri Turbo, Ferrari 512, BMW M1)
_________________________________________________

Othelion




Race Number

: 23



I'm picking up what you're dropping, Othelion.
I feel like a 2.0L Trans Am series will be over D class. B Class might be a little beyond their handling capabilities, but we'll see. Since our first series is already C class, maybe this would come down the road.
If/when we do a spec series, Formula Ford is high on my list. All of our Pcars races were spec, so I'm hoping to enjoy an actual car selection for a little longer.
VW Scirocco R cup was one of the only time I actually beat Snip in a race square up. A good series indeed

My gut says those 50s cars may be a little outside our skill level. Without any downforce and skinny tires, they're a bear to handle.
The VS. series will always be a part of MSM. I suspect the Mustang/Camaro/Challenger will see some time.
I haven't spent time in the group 5 cars, but they might have some issues with performance balancing. We'll cross that bridge when we get there.
_________________________________________________


Dominic Mako

Admin





Race Number

: 32



I'd like some one make races. Like the Lotus Evora cup thing we did in FM4.

I'll get more experience with the car list first and get back to y'all with my thoughts!
_________________________________________________
Follow Me on Twatter: @Ryanmfoley5
Check out my new Blog: http://ryanmfoley.blogspot.co.uk/

---
Permissions in this forum:
You
cannot
reply to topics in this forum