Our next MSM event!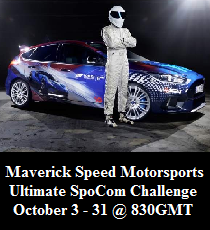 I know I'm 3 days late, but better late than never right? Ok so I'm still ironing out my personal issues at home, but they are slowly getting better and I should start cranking out reviews on Sunday once again for everyone's enjoyment

. So lets not waste time here.
Ok so in my last review of the Aston Martin DBS, I put a poll up asking you guys which car to vote for so I can review next. I put up an even amount of non DLC and DLC, and this what was voted upon.
The RUF RGT-8 is a Porsche 911(997) GT3 that has more horsepower, lighter and has a new body kit on it. They started producing the RGT in 2000 when Porsche brought out the first GT3 in 1999. And thats all really on the history of the RUF RGT-8.
Now the car is in the game, costing a cool 320,000 cR, but at first you had to be a VIP, which means you had to but the limited edition of Forza 4 in order to get the car, then back in January they made all the cars open as DLC. No more wasting time, here are the stats and good stuff of the RGT 8
So that extra horsepower brings the speed alot higher than I can remember in the 911 GT3 from Forza 3. The handling and braking seem kinda low for a mid range S class car. Other than that everything else seems to be ship shape. So I took the car onto one of my test tracks, and found out these Things that I must Tackle(shameless plug into Things to Tackle)
So I got the car off the track and I'm looking here in the upgrades section, and I'm debating on what I wanna put onto the car, and I debated over everything, Slicks or Race Weight, Keep it Normal or Turbo the car, HRE Rims or Hamann rims, Black or Yellow. You name it I debated over it, so after finally settling on a build for the car, here is what I upgraded on my RUF.
/center]
So after deciding on everything I wanted, I took the car back out onto the track and it performed a lot better than than what it was when it was showroom form, the issues from Things to Tackle were still there, but I knew ahead of time with a good solid tune the car would be better. So I made every single little adjustment I made to the car, and then took it back onto the track, which brings me to this section.
Trash and/or Snippety have been telling me over the past 2 weeks that I should bring out a leaderboard for each of my cars that I review each week to do a comparison on what car, so finally making its debut, here is the new leaderboard for my review!!
[center]
As you can see, on 4 of the 5 tracks unfortunately the RGT 8 gave me a sub par performance on the track, but I was completely shocked when it just absolutely blitzed the Lambo's time at Silvestone, overall tho the car felt the most comfortable, very smooth turn in, my only issue was my right trigger finger on cold tires, didn't really work that well for that car, gotta work on that.
So in conclusion, the RUF RGT8 was indeed a very fun car to drive and tune, but to be honest, I'd prefer the Porsche 911 GT3 over the RUF, I was upset when they didn't add Porsches to FM4, but on May 22nd, my wish will finally come true as they are finally adding Porsches to Forza 4!, so you can expect me to be doing alot of Porsche reviews in the May-July time frame.
Well that's it for this review, next time I unleash a bull, and a very fast, lightweight bull at that. That's right, next time, its Bobbo... vs the Lamborghini Murcielago LP670, stay tuned until then!
_________________________________________________

Great review, I love my RGT-8 but it was in the launch pack, not VIP, the VIP car was the RT 12 R.
_________________________________________________
Black Box wrote:I'm designed to be completely fabulous. So is there a way around it?

slasher99999

Test Driver







---
Permissions in this forum:
You
cannot
reply to topics in this forum