Our next MSM event!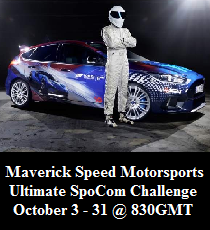 Hey Guys,
Just been pondering this one at work today and i hope i find some interest for it. The idea is that we can have a mid week race, perhaps on a tuesday night, where we will pick a car and track to race. The car must be stock, with it's stock tune (not even tyre pressures

and with an agreed assist setup where everyone races with the same assists.
This is to produce as close racing as possible where it is purely racing line, throttle and brake control which give you the edge.
To kick off i'll propose a pilot race for next Tuesday 5th June.
Car: 2010 Mazda MX-5 Superlight (D323)
Circuit: Tsukuba - Full Circuit
Hot lap qualifying (2laps)
15 Lap race
Assists:
Open to opinion on this on what assists we should set so feel free to comment!
Tier handicap:
Tier 1: 10% Power HC
Tier 2: 5% Power HC
Tier 3: No HC
Time:
Again it'd be nice to pick a time which suits all so please suggest when is a good time, eg 8:30pm GMT...
Not sure if we can find a race time which will suit both europe and americas? Perhaps if someone is willing, an Americas lobby could be setup?
Open to suggestions... lots of suggestions...!


Guest

Guest






SimF40





All sounds good to me, although we will have just run Tsukuba.


B4D B0Y69





In the past when I've been involved in more than two scheduled races in the same week I get pretty burned out, but perhaps a car that won't need to be tuned would help keep that from happening.

Obviously, I would be only available for evening hours in North America.
_________________________________________________
[Only admins are allowed to see this image]

Dominic Mako

Admin





Race Number

: 32



I'll be there cause i love the mx-5 superlight...i'll drive it cockpit view


Guest

Guest





I would be game for a North American lobby in the evening. Maybe the same day as the Europe race goes.
PS: Stock muscle cars would be cool sometime as well. Just saying.

Guest

Guest






---
Permissions in this forum:
You
cannot
reply to topics in this forum