Our next MSM event!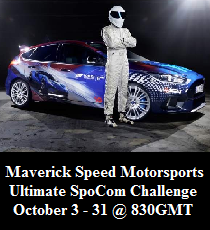 At last, Britain has their first supercar. Please meet the 1977 Aston Martin V8 Vantage:
Demand for a larger, more powerful Aston Martin had been building up for years, partially spurred on by the blooming muscle car trend in America during the mid-1960s. In 1967, the car was ready, as a brand new Aston Martin DBS, but the engine was not. Instead, the new DBS was fitted with a straight 6 from the DB6:
Meanwhile, Aston Martin tested their newest V8 engine in the Lola T70 Le Mans race car. I'm not going to lie to you though, the Aston Martin powered Lola was a total failure. The engine simply couldn't stand up to the rigors of endurance racing; however, Aston Martin used these races as development until a production version was finally introduced, upgrading to the DBS V8 in 1969. By 1973 the older I6 wasn't even offered anymore, and the DBS V8 simply became the Aston Martin V8:
Although popular by Aston Martin standards, the company hit upon some financial difficulties, a theme that has plagued them throughout their history. The British auto industry in general hit the skids in the 1970s. Aston Martin production was temporarily halted in 1975, and a new consortium took over the automaker. This is not unlike when Ford recently sold Aston Martin to an investment group. It was decided instead of developing new models, they would focus on tweaking and upgrading their existing line-up. Aston Martin was in trouble, and they would need to fight for their survival.
In February 1977, by way of these "upgrades", a separate model was created anyway - the Aston Martin V8 Vantage. This car was based on the already available Aston Martin V8, but borrowed the engine from the Lagonda. I just want to hit the pause button for a moment to take a quick look at the Aston Martin Lagonda, if only because visually it registers a quirky place in the history of the company:
...but back to the V8 Vantage, many changes were made both mechanically and cosmetically to make this a separate model in the Aston Martin line-up. To increase performance, the new car was gifted revised camshafts, larger inlet valves and carburetors, as well as new inlet manifolds and air-box. All told, there was a claimed 40% gain in power and 10% more torque. The new V8 Vantage could reach 170 mph and 0-60 in 5.2, which rivaled the best from Ferrari, and made it the fastest four-seat car in the world. For the late 1970s, these were in fact supercar numbers:
The aforementioned cosmetic changes were actually made to accommodate the new performance levels. A spoiler was added to the rear and the front. You may have also noticed a curious difference in Forza, where you can actually paint on the grill. This is no mistake, as the hood scoop and grill were both covered over to reduce drag:
Although the V8 engine had been a failure in the Lola T70, Aston Martin would redeem themselves almost a decade later. Technically, the V8 Vantage was not raced by the factory, but the British team SAS Robin Hamilton did field the Aston Martin DBS V8 at Le Mans in 1977, which had the same 5.3L V8. They managed to finish on the podium in the GTP class that year. It wouldn't be until 2005 that an Aston Martin would see the podium again:
The V8 Vantage carried on successfully for many years as a flagship performance car. In 1985, Italian coachbuilder Zagato built a limited edition V8 Vantage, which was 10% lighter, had a shorter frame, and 430 hp with a reputed top speed around 185 mph (300 kph). I say reputed, because they may have fudged the numbers a bit before it was actually tested. Anyway, this 1985 Zagato V8 Vantage was limited to 52 coupes and is one of the most sought after Aston Martins in existance: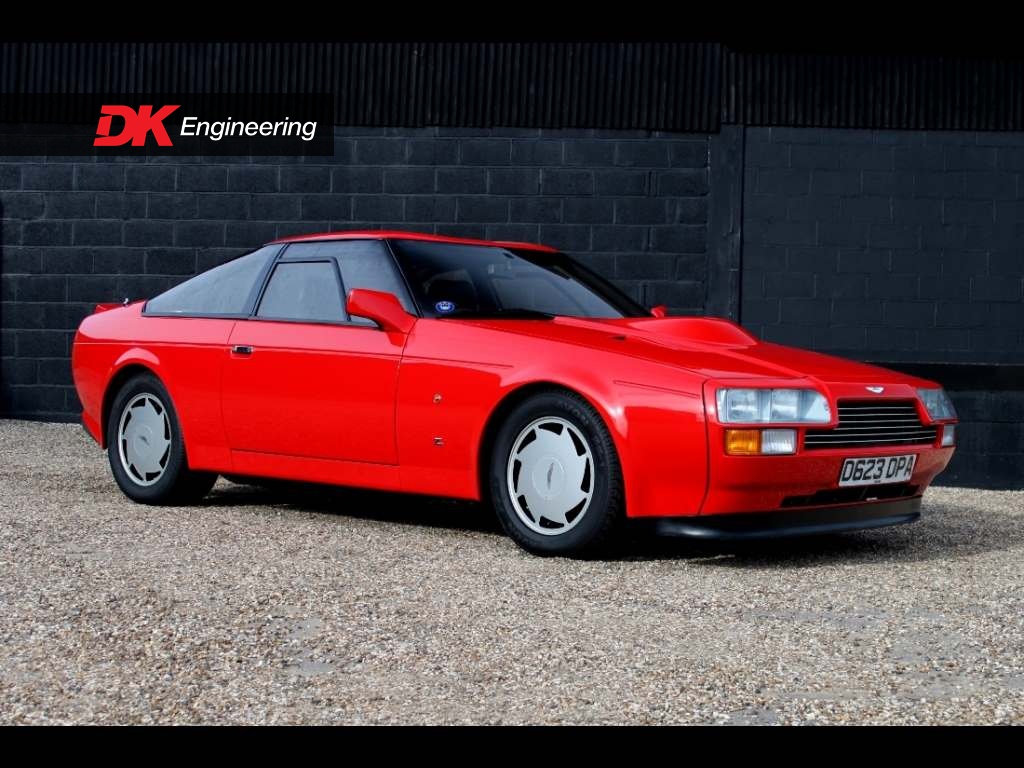 The 1977 model is included in Forza because it was the first, and the first is always best, right? The standard Aston Martin V8 and the V8 Vantage were retired in 1989 in favor of the Virage, but the influence of this car on Aston Martin is indellible. Even in its last model year, the car still looked recognizable even after over a decade. All told, over 530 were built, including 192 convertibles (Volante) models:
Something I didn't mention earlier that you might notice in Forza is that this car is a bit of an anomoly for a couple reasons. First, Forza gives you a whole bunch of big, high HP cars from the early 70s and then... nothing. Like someone put their finger on the record, Forza skips almost the rest of the decade as if it didn't happen. It terms of sports cars, it pretty much didn't. And from out of nowhere here we have a car from 1977 with 380 HP cresting 170 mph.
Second, British cars were mostly awful in the 1970s. Anyone who watched the Top Gear episode about British Leyland might remember some of the laughable products they were selling. And from out of nowhere, from a company struggling just to make ends meet, we have a well-built luxury car going toe-to-toe with the best in the world.
Let us now take a closer look at the car we have in the game:
Price: 35,000cr
Class: C 408
HP: 380
Torque (ftlbs): 380
Weight (lbs): 3,803
Distribution: 50%
Displacement: 5.3L
Drive: RWD
Speed: 6.2
Handling: 4.3
Acceleration: 6.9
Launch: 7.0
Braking: 4.3
Gears: 5
It seems strange to complain about too low of a price in-game, but 35,000cr?! Some of the in-game cars have prices in relation to the original sell cost, instead of the current value, which is where I think this is coming from. This is such an arbitrary number, and I think is partially to blame for why this car is overlooked. If it were 300,000cr I think more people would take notice.
If we agree the muscle car age came to an end in 1973, then the next car with a higher speed rating than the 1977 Aston Martin V8 Vantage is the 1984 Ferrari 288 GTO, which has the benefit of twin turbos! For its era, this car is hard to beat in a straight line. The acceleration number isn't great though, largly due in part to the porky weight it's carrying around. The 3,803 lbs. is a problem. It is a four-seat luxury car, afterall. As a result, handling suffers the most, but that's why we're going to tune and upgrade this puppy.
I went back and forth about putting aero on mine, and ultimately decided I could do with out it. The car doesn't feel competitive in C class, so I moved it up to B. I've done a few tire upgrades, race tranny, brakes, and a small weight reduction. The car feels very manageable on sweeping turns, and seems to do well in high revs. I've got my car's stats below, and I'll put it in the garage for a couple weeks. Let me know what you think:
Spoiler:


Class: B500
HP: 387
Torque (ftlbs): 387
Weight (lbs): 3,758
Distribution: 50%
Displacement: 5.3L
Drive: RWD
Speed: 6.8
Handling: 5.2
Acceleration: 7.2
Launch: 6.8
Braking: 5.8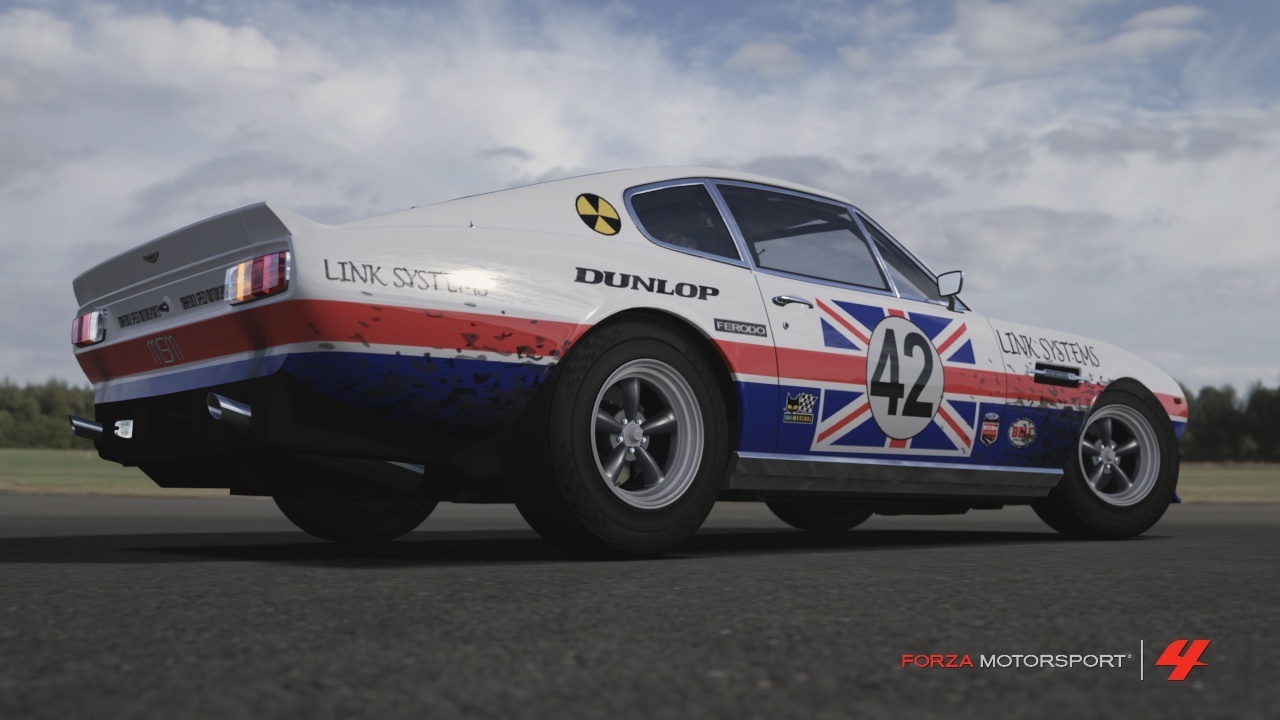 _________________________________________________


Dominic Mako

Admin





Race Number

: 32



I read this and enjoyed all the things i learned about the car so much i actually went out and bought one


Plagued Almond




Race Number

: 18



i'm a Dom's review fan!

Nice pictures and historic fact....learn a lot reading it!

Guest

Guest





I tried a few different builds with this car and thought the one I put into the club garage was decent, but last night I pretty handily beat it out with a freakin Dodge Stealth at Camino in 2 laps. If someone else can build and tune a better V8 Vantage that would top 01:12.77 at Camino Full I would appreciate it (or just drive my V8 Vantage build and prove I'm a crap driver

).
_________________________________________________


Dominic Mako

Admin





Race Number

: 32



Since i need to upp my aston martin affinity i will take a shot at this challenge

_________________________________________________


RetPetty

Admin





Race Number

: 7



Using dom's tune ive managed a 1:12.567, theres probably about 1 or 2 tenths in it too.
i built one after reading your review. I'll see what it can do
_________________________________________________

Clark GriswoId




Race Number

: 3



Dominic Mako wrote:but last night I pretty handily beat it out with a freakin Dodge Stealth at Camino in 2 laps.
Dom was that Stealth
My
Stealth?

Plagued Almond




Race Number

: 18



Yes Fam, the Stealth I gifted you was the actual car I drove on Camino. I figured after painting it I might as well tune it as well and see what it could do.
_________________________________________________


Dominic Mako

Admin





Race Number

: 32



Thanks again for the Paint and Tune. just let me know when the best time to pay you the 2 mil is


Plagued Almond




Race Number

: 18




---
Permissions in this forum:
You
cannot
reply to topics in this forum