Our next MSM event!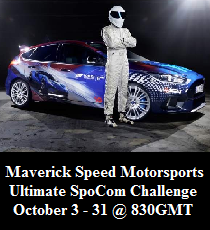 And welcome back
Im am back from my lengthy 2 month or so break from (due to exams)and im here today to bring not one but two reviews, both of which are both classics been enjoying a heap of lately but quick enough to make your opponents think twice.
Before I get going with the reviewing, since I'm now out of school, until im at college which is not till autumn and until I get a part time job which is something im currently trying to get, I do have a bit more time on my hands for reviewing which means expect possibly 2 reviews a week (depending on schedule and if im in the mood) which will most likely be 1 dlc car and one non dlc car for those who don't have it.
Now onto review last time I reviewed Awareofnows Maserati MC12 which was tuned for R3. It was a pretty decent car with only minor easy to fix flaws which proved to be quite a sleeper in its class hitting very solid times allround. Today I Will be taking a look at a B500 Aston DB5 I saw in the tuning marketplace which impressed me as it was something different from the the typical civic or lb you see but still immensely fast breaking PBs I been trying to break for a while such as road America. The second is a DLC car the #2 Audi Quattro which I found to be surprisingly good for short tracks considering it's a 4WD rally car which tend to struggle in the forza .
And now enjoy both to make life easier both review are in the spoiler tags below allowing you to easily read the ones you want to read.
Audi Quattro S1
Spoiler:

Car: Audi Quattro S1

Class: R3 4WD

Racing Style: short track handling

Created by: Cunaxa

Price: free

Notes: Only had time to test one tune due to lack of time also its part of the ALMS car pack

PI

Speed: 6.4

Handling: 7.5

Acceleration: 9.7

Launch: 10

Braking: 8.0

HP: 547hp

Torque: 413 lbs. ft.

Weight: 2407bs

Drivetrain: 4WD

Power RPM: 8000

Torque RPM: 5500

Redline RPM: 8500

No of gears: 6 speed

Front weight: 52%

Real life Info

The Audi Quattro is a 2 door coupe road going rally car developed and produced by Audi from 1980 to 1991. It was among the first rally cars to take advantage of the the recently changed rules at the time which allowed the use of four-wheel drive in competition racing. The Audi Quattro enjoyed a heap of success winning completion after completion for the next two years. This even went the the point of Audi badging any of their cars using the 4WD drive train Quattro with a small q. The Quattro S1 acted as an updated Quattro rally car in 1985 which was more powerful lighter and had more aggressive aerodynamic styling. The one available in game was among the last group B rally Audi had produced and also considered among the most powerful group B rallycars with the most powerful variants having as high as over 500 horses beneath the bonnet. The S1 similar to its past self enjoyed immediate success in the rally circuit, helping Walter Röhrl and Christian Geistdörfer win the 1985 San Remo Rally.

How does it perform?

Similar to other rally cars like the 2011 racing Veloster and the Suzuki the Audi Quattros S1 PI layout powerwise is no different very high acceleration it its class but a significantly low top speed (as obviously you not going to be doing 200mph in dirt and snow). The tune boasts an impressive 9.7 accel among the highest in my R3 garage however it speed its painfully low at 6.4. While the PI system can be a bit untrustworthy its unfortunately the case here. The car does come out of turns like a rocket making its efficient on twisty tracks like fujimi however similar to many 4WDs I've tested it just doesn't feel as powerful as it really should as it higher speeds its accelerating especially in its 6th gears drop significantly. The Quattros 2.1 litre 5 cylinder engne has around 547 horse power and will go from 0-60 mph within 2.8 seconds, 0-100 in six and a top speed of 165mph.

How does it cope on the turns?

On the turns it's a different story, on paper its look average with only 7.5 handling which is somewhat lower compared to the finest handling R3s which are capable of 8.0+. On the track however it being a 4WD its has plenty of grip behind in most cases and its turns in pretty decently for its stats. Its also absorbs bumps and curbs with ease and unlike most R3s you can drive it pretty easily without TCS. Only problem I really found with the car is obviously there are stronger handling cars out there due the disadvantage 4WDs are burdened when it comes to to PI but I found the car to still behave as it its on a rally course as on when accelerating out of sharp hairpins or long sweeping turn like the second turn on Camino Viejo the back end can feel a bit loose at times.

Laptimes

Top Gear Test track - #442 – 01:07.250

Tsukuba - #505 – 00:54.778

Fujimi kaido - #104 – 07:52.814 (new PB)

Hockenhien national – #344 - 01:26.000 (new PB)

Nur GP Short - #445 – 01:25.542 (new PB)

Final Verdict

Inconclusion I found the Quattro to be almost be like a R3 version of the typical short track subarus or Evos that commonly seen in A class round Fujimi kaido especially. Though its somewhat weak on the straight its demon on the turns and bends. It is also unique being one the few handling focused 4WDs in R3 and also the fact it's a rallycar. Overall I think its an expensive but solid car that is both fun to drive but can make your opponents think twice.
B500 Aston DB5
Spoiler:

Car: Aston Martin DB5

Class: B RWD non Aero

Racing Style: mid long track

Created by: Mr Fade

Price: free

PI

Speed: 4.9

Handling: 5.4

Acceleration: 7.3

Launch: 7.5

Braking: 5.6

HP: 361hp

Torque: 320 lbs. ft.

Weight: 2646bs

Drivetrain: RWD

Power RPM: 6800

Torque RPM: 3200

Redline RPM: 6900

No of gears: 5

Front weight: 50%

Real life info

The Good old Aston DB5 is a luxury grand tourer that was made by Aston Martin from 1963 to 1965. It acted as a evolution of the final series of DB4. The DB series of cars are named in honour of David Brown the founder of Aston Martin. The DB5 is famous for it being the first and most commonly used vehicle in the James bond films appearing Goldfinger, Thunderball, GoldenEye, Casino Royale and the upcoming Skyfall as well as several video games such as James Bond 007: Agent Under Fire, From Russia with Love, and James Bond 007: Blood Stone. The DB5 used in goldfinger was the original DB5 prototype, with another standard car used for stunts.

How does it perform

On paper the DB5 has many similarities to many of the Classic Muscles car tuned for B class in this case very high acceleration and low to mid speed. In the Astons case its slightly better off with more speed at a decent 4.9 and about the same acceleration with the typical muscle at 7.3. Unlike muscles however the Aston is significantly lighter which definitely makes quite a difference as the DB5 just doesn't tire its keeps accelerating at a very good pace to the point of it easily hitting top speed in a full mile drag race and on the track at times. Speedwise its just enough to produce good times for the likes of road America and Sebring however it will have a tendency to struggle round longer courses such as the the nurburgring. The Astons 4.5 litre V6 produces a suitable 361 horses under the hood and it will go from 0-60 within 6.4 seconds, 0-100 in 14.5 and top of 152.


How does it cope on the turns

Unsurprisingly it being having similar stats to some of my B class muscles cars, handling obviously is on the lowerside at a glance however again its much lighter making more agile and also looks better on paper with slightly better handling PI wise compared to other Sebring/RoadAmerica tuned car ive tested. On the track I found the tune to have very good turn in ability and surprisingly good stability considering its non aero. This gave the tune more versatility as it can be used on tracks such as Indianapolis or Sedona with ease.Grip levels are fine enough in most cases however I did find it to oversteer a bit near the end of very sharps turns like hairpins. Over the Curbs its fine most of the time but can break into a slide if not careful when going over them at higher speeds such as the last turn on sunset peninsula

Laptimes

Sebring club - #554 – 01:14.015 –

Sunset full - #451 – 01:41.872

Sedona full - #251 – 02:33.456 (hit a time in the 2:32 but was uncertified)

Road America - #296 – 02:27.024 (New PB)

Indianapolis - #397 – 01:36.441 (New PB)

Final verdict

So to sum up this review I think Aston DB5 is definitely a sleeper in its class due to its very consistent and quick acceleration and just the right amount of speed to be usable on track such as Road America. On the turns it continues to impress though a bit loose at times it is in most cases very solid and is somewhat versatile as the car can be used on mid tracks as efficiently as long tracks. Low top speed is the only main weaknesses as it just to slow on the straight for nurburgring or le mans. It also sadly lacks the gadget from the James bond series as the smoke screens would prove very useful for fending off your opponents on the track. Overall though despite some difficulties it's a very solid and fun car that I would recommend.
Last edited by Soulfire XP on Sun Jun 03, 2012 9:53 am; edited 2 times in total

Guest

Guest





Wow very nice job Soul


Plagued Almond




Race Number

: 18



Nice, i'll be sure to give both of these cars a try out.
_________________________________________________
2012 & 2013 MSM Champion


SnippetyOggy86

Admin






The DB5 is the first car i raced competitively with MSM so its good to see it get some recognition

_________________________________________________


RetPetty

Admin





Race Number

: 7



Nice review dude


Guest

Guest






---
Permissions in this forum:
You
cannot
reply to topics in this forum