Our next MSM event!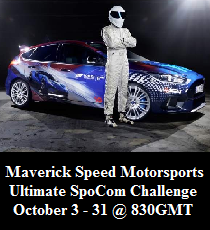 Car: Lexus
Class: B RWD
Racing Style: Mid track
Parts: Sport fuel system, street exhaust, race centrifugal supercharger, every platform and handling upgrade at race, race driveline and differential, street tyre compound, front tyre width 245 and back 265, TSW trackstar 4 rims, forza aero front and back, stillen side skirts and rear bumper, C-West hood, centrifugal supercharger
PI
Speed: 5.9
Handling: 5.7
Acceleration: 7.1
Launch: 7.2
Braking: 6.0
HP: 298hp
Torque: 268 lbs. ft.
Weight: 2802bs
Drivetrain: RWD
Power RPM: 6400
Torque RPM: 4900
Redline RPM: 6400
No of gears: 5 speed
Front weight: 53%
And Welcome back once again for this I decided to try something different which was to try to tune the car myself as I've been wanting to get into it for a while so I can add cars to the club garage after a review and am finally starting to feel confident enough to put them forward into the reviews. Along my usual view on the speed and handling I may put in some sentences of how I tuned the car such as how I got to the build the main problems with the base tune etc and my work around as well as the finalised settings. Due the amount of time spent it won't be a full write up on how the car was exactly tuned just the basics. The car will be added to the club garage after writing a review for about a week or two. I will still put forward Storefront review every so often normally with cars I'm struggling to tune such as FWDs and 4WDs or cars I already have a very solid setup for.
Real life info
The Lexus IS is a series of entry-level luxury cars / compact executive cars sold by Lexus since 1998. They started off as Toyota Altezzas which is Italian for highness and were sold in Japan until the introduction of the Lexus brand and the second generation Lexus IS design in 2006. The IS300 is a first generation IS and was designed to be a direct competitor to the luxury sport sedans of the leading European luxury marques. The engineering work was led by Nobuaki Katayama, who was responsible for the AE86 project The IS300 offered both RWD and 4WD drivetrains which explains the ingame 4WD swap.
The build and how it comes together
I decided this would be a good section to add as the car build is in my opinion is the main key to success. The IS300 in comparison to FM3 has had quite a jump the performance index at high D class compared to its E class standing it had in FM3. It bases stats offered average acceleration but high speed and also heavy weight for a non musclecar which meant Race weight reduction was the way to go no doubt. This resulted in the tune going up to High C with only a small bit of room for upgrades and since I already had a competitive Altezza in C so I decided to go for B class and make it a handling focused car. Even with the weight reduction I still found the IS to lack Accel as a handling car so I decided to throw in more power to put it toward mid track like Sunset full to take advantage of the IS300s alright speed. After that it was a matter of messing with the different parts available part such as transmission etc which I will go into in the next sections.

How does it perform?
Tuning wise it was pretty simple job for the IS300 as after testing the different transmissions available for it I found it unnecessary to go for trans upgrades as you were getting no additional benefits outside of the customization no accel boost or anything of the sort. This opened up space for further performance upgrades enough to fit in a centrifugal supercharger offered a decent balance of speed and accel for the IS300. Outside of that there wasn't much else to do with the speed besides lowering the Aero as low as possible to keep a good balance of speed and grip for the car.
Onto the car itself I found the IS300 tune to have similarities to its stock self with its acceleration being decent but far from the best but has respectable enough speed to put down good times round sunsetfull as well as other mid track like Indy or Road Atlanta. I also found its be a very consistent car easily hitting 150mph in the full mile however I have found it speed to be a tad short for the likes of the nurburgring. Under the bonnet the IS's V6 produces around 298 horses and it will go from 0-60 in 5.5 seconds, 0-100 in 12.4 and a top speed of 167 dead.

How does its cope on the turns
This is where I found the IS300 to shine. The Base tune proved to be very quick hitting top 1000s on sunset full right off the bat and had decent grip when entering turns however where the main problems was lack of grip acceleration out of turns, lack of stability at high speeds and the Car being to bouncy on the bumps. This did result in a decrease for both differential settings to help grip the car better for exiting turns to also help it turn in even better. The rear aero was also increased from its base setting was the lowest possible to help keep the car stable as well as giving it rear negative toe. Rebound damping was also stiffened to try to keep the car from bouncing off bumps too much. Despite it being bouncy on some curb I was able to get the ride height pretty low without the car bottoming out too much. The rest of it was mainly experimentation and advice on different tuning guides to help perfect the car.
After I think 4 hours on the tune I found the IS300 to be a very grippy and reliable car going over bumps with good stability most of the time making it a decent lobby car. I decided to give a lower brake pressure to the large amount of "trail braking" that is expected on Sunset and Road Atlanta thus it isn't suitable for the shorter tracks like Camino Viejo. On high speed corners the car can still feel ever so slightly more loose at the rear but nothing really too unmanageable.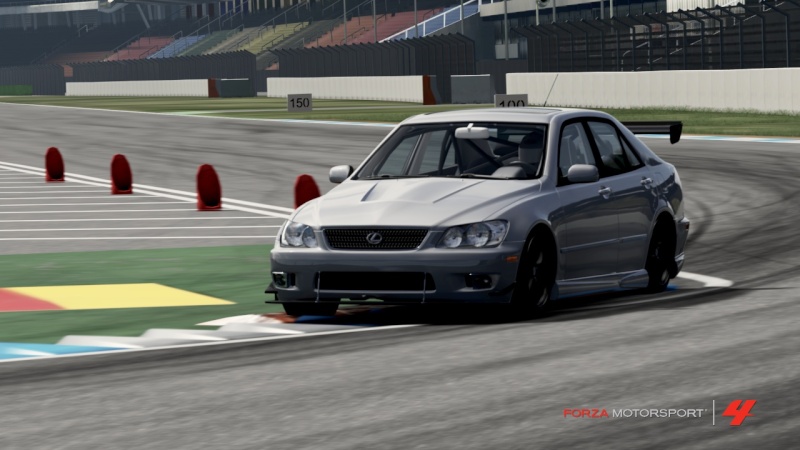 Lap times
Hockenheimring full - #257 – 01:56.922
Indianiapolis - #419 – 01:36.312
Road Atlanta - #433 – 01:34.235
Sedona full - #188 – 02:32.409
Sunset full – #209 - 01:40.794
Suzuka West – #512 - 01:27.796
All of which were new PBs
Final Verdict
In conclusion I've found the IS300 to be a very solid car that's both easy to pick and use but quick enough to compete against the top dogs of B class. The car will be available in the club garage for about a week or two though bear in mind it has no paint. Any further advice to help perfect the car further will be appreciated.
And finally here are the final tuning settings
Spoiler:


Tuning:
Tires(psi) F/R: 29.0/29.5

Gearing:
FD:
1:
2:
3:
4:
5:
6:


Alignment
-Camber F/R: -0.8/-0.5
-Toe F/R: 0.0/-0.1
-Caster: 5.7

Anti-roll Bar F/R: 19.20/20.40

Springs F/R: 445.0/395.0
Ride Height F/R: 4.9/4.7

Dampers (rebound): 9.5/9.1
Dampers (bump): 3.0/2.5

Downforce:55/120

Braking
Balance: 48%
Pressure: 99%

Front Diff Accel:
Front Diff Decel:

Rear Diff Accel: 16%
Rear Diff Decel: 25%


Thanks for reading

Guest

Guest





Excellently done, Soulfire! Seems like you can start reviewing your own tunes now, they look like they perform better than the others you reviewed already. All it needs is a lick of paint really, and then it wouldn't be out of place in the TM.
_________________________________________________

Othelion




Race Number

: 23




---
Permissions in this forum:
You
cannot
reply to topics in this forum