Our next MSM event!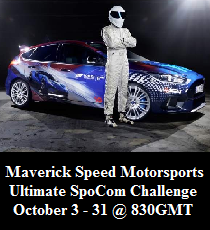 Classification:
Make - Toyota
Model - MR-S
Year - 2002
Class/PI - C425

Vitals:
HP - 170
Torque - 154
Weight(lbs) - 2120
Distribution - 46%
Displacement -
Drive Type - MR

Statistics:
Speed - 4.3
Handling - 5.6
Accel - 6.2
Launch - 7.1
Braking - 5.9

Benchmark:
0-60 - 5.976
0-100 - 15.811
1/4 Mile -
Lat G 60 - 108.1
Lat G 120 - 297.1

Key Upgrades:



Street Air Filter, Sport Exhaust, Street Valves, Street
Displacement, Sport Flywheel, Race Brakes, Race Springs, Race ARBs (F & R),
Race Chassis, Sport Weight, Sport Clutch, Sport Trans, Street Driveline, Race
Diff, Sport Tires, 215/35/17 (Front), 235/35/17 (Rear), Enkei RPF1, Tom's Front
Bumper, Tom's Spoiler, Abflug Rear Bumper, Top Secret Side Skirts



Additional Comments:

I love tuning the lower class cars, and this one stood out from the beginning. As soon as I started tuning it, I was running some pretty impressive numbers (given the driver, and the times I was turning in other cars!). Every track I was running it on, the MR-S was putting up fast times for me. Road Atlanta is my go-to tuning track, because it offers a little bit of everything. It didn't just excel there.....Laguna Seca, Suzuka, Mugello. It just seemed to like everything.

The car is nice and stable, keeps the weight down, but cranks the fun factor up to 11! If you're feeling adventurous, give it a try. If you're feeling kind, give me a little feedback. You won't hurt my feelings if you wanna give me some criticisms. Let me know what you think either way!

Thanks!

Guest

Guest





Ill give this a shot later this week and give my thoughts

_________________________________________________

RetPetty

Admin





Race Number

: 7



Had a run in this on a couple of tracks today, and decided to give some thoughts. I kind of got carried away and turned it into a mini review. Anyways,

Straight away, I was gearing down too early, and locking the rear wheels, but as soon as I sussed the box it was great. Not sure how it would be affected in auto but, driving manual, it's set up well to keep gearchanges to a minimum. It handles really well, has pretty good acceleration and the brakes are sound.

The suspension settings deserve a special mention. I hit a few kerbs that are notorious for unsettling, and even flipping, cars with a hard setup but this just soaked them up. It encourages you to push a bit harder knowing there's going to be no major drama. I didn't go on any "speed" tracks but, seeing as I never hit top, I'd say it's a great all rounder.

B4D B0Y69





RetPetty wrote:Ill give this a shot later this week and give my thoughts
Looking forward to it!

Guest

Guest





Thanks for the feedback, B4D B0Y69. With 170 HP, this will never be a speed tune, but the balance is there, which is what I always try and tune for. I drive manual when I race, so of course tune with it, and run up through the red line often. I'm not sure the gearbox will be very good in auto, though.

Guest

Guest





You're welcome. Credit where it's due, it's a good tune. If it's on your SF, I'll have it.

B4D B0Y69





Well, you've inspired me. It's up on the storefront now, so go ahead and grab it. Won't cost you a dime, other than parts!

Thanks again for giving it a try!

Guest

Guest





i have already used this in 2 races and Boy JD is this little MR-S balanced! It's about the only thing i can use to go around a corner while maintaining proper speed. Thanks for putting it up in the Garage for everyone to use.


Family

Plagued Almond




Race Number

: 18



Excellent car Dawg! I got a 1:29.1 out of it on Road Atlanta, good for a top 1000 notation. That for a car that feels like it lacks a bit of power to truly shine on that track, I'm guessing it will do better on other tracks. The setup is great, can't say anything wrong about it. You really know your stuff, should do more cars!
I find it curious that you use Road Atlanta as a tuning track, as to me it doesn't seem to offer that much variety in turns. There aren't any long turns that can get you in a steady state cornering situation (no damper movement), or high speed corners that really test the car's limits (other than turn 1 but that's a pretty weird one imo).
While it looks good already, you could also make a custom livery, the car deserves one. Or, if you're not so keen with that, another club member could try it. Anyway, all up to you of course, good job again!
_________________________________________________

Othelion




Race Number

: 23



Thanks for all the great feedback! It's nice to hear such good things about the car.....makes me think all the time spent tweaking might actually be worth it

! I'd love to hear about any other tracks that you guys might take it on.
As far as painting the car......not gonna happen if it's up to me to do it!!! I just don't have the patience in the paint booth. I'd rather spend it on the track trying out new cars. If someone wants to take it on, I'd be more than open to it.

Guest

Guest





It did run good on Nurb GP, got it to around #600 there. It runs best on these medium tracks it seems. Top end is better than I first thought, still nothing for the speed tracks though. Maybe you could make the gears a bit shorter so that it tops out in fifth on the Mugello/Catalunya/Hockenheim straights, that may make it a bit quicker too.
_________________________________________________

Othelion




Race Number

: 23




---
Permissions in this forum:
You
cannot
reply to topics in this forum