Our next MSM event!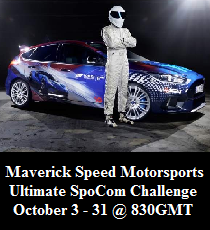 Car name: 1970 Nissan Datsun 510
Classification:
Make - Nissan
Model – Datsun 510
Year - 1970
Class/PI – R3 793
Vitals:
HP - 837
Torque - 781
Weight(lbs) – 2,510 lbs.
Distribution – 60%
Displacement – 6.0 L
Drive Type - AWD
Statistics:
Speed – 6.9
Handling – 6.0
Accel - 10
Launch - 10
Braking – 6.5
Benchmark:
0-60 – 2.750
0-100 – 4.368
1/4 Mile – 10.811
Lat G 60 – 1.07
Lat G 120 – 1.03
Key Upgrades:
Engine Swap; 2000 Ford Mustang V8, Single Turbocharger, Drivetrain swap, Race front bumper, Race rear wing, Street side skirts, Street hood, Race tire compound, Full upgrade of front tires, full upgrade of rear tires, Hole Shot Star Rims, Race Transmission, Race Driveline, Race differential, Race brakes, Race Springs and Dampers, Race front and rear anti-roll bars, Race roll cage, Race weight reduction, all engine components upgraded to race versions.
Additional Comments: This was an early experiment I did in Forza 4 based off results I got in Forza 3. I knew I could take the stupid little Datsun and wind it up quite a ways but I didn't know how far it would go in the "new game". Now the truly sad thing is it didn't live up to my expectations when I got done (the previous version of the car had close to 1000 horsepowers) but it does haul really well. And now that I know what's going on with the drivetrain it's even faster off the line than it was before.

LoneStranger






---
Permissions in this forum:
You
cannot
reply to topics in this forum