Our next MSM event!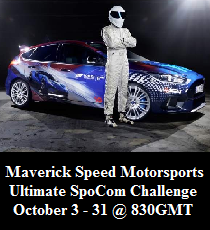 2008 #23 Xanavi Nissan GT-R GT500
This car means ALOT to me, not only was it the car I drove in my first ever official MSM Series, it also got me my first 2 wins here in MSM. Complete in a now modernized paint, this is the exact paint scheme I had during that fateful race at Suzuka.
BMW Z4 GT3
I didn't really know what I wanted to do with this car, I like the looks of it, its a fun car to drive, however its very slow with the stock gear setups, worst part is it can't get to the top of its class. So this car really has no place in FM4 unless its a spec series car. But nonetheless its a fun little car to drive and has my most recent revision to the AMP Energy Paint I been working on. Someone will also win one of these in the MSM Raffle
Australian V8 Supercar Ford Falcon
This car also means alot to me, not just because of it being one of my favorite disciplines in the world, but it's a personal story of my own to it as well. My grandfather served in the military, so every year on Memorial Day and 4th of July I run a National Guard paint to honor the military and thank them for them protecting our freedom and serving our country. Unfortunately my grandfather passed away in 2009 due to Lung Cancer, so I dedicated this car to him(he was also a Ford Fan, which is the reason I drove this car in the V8 series.)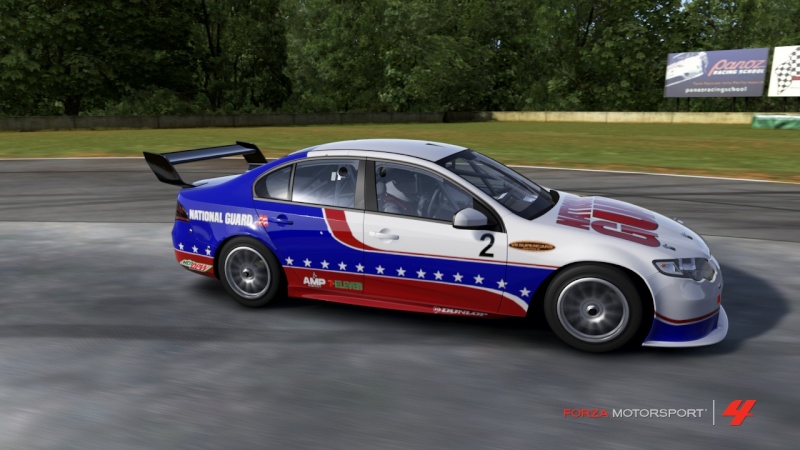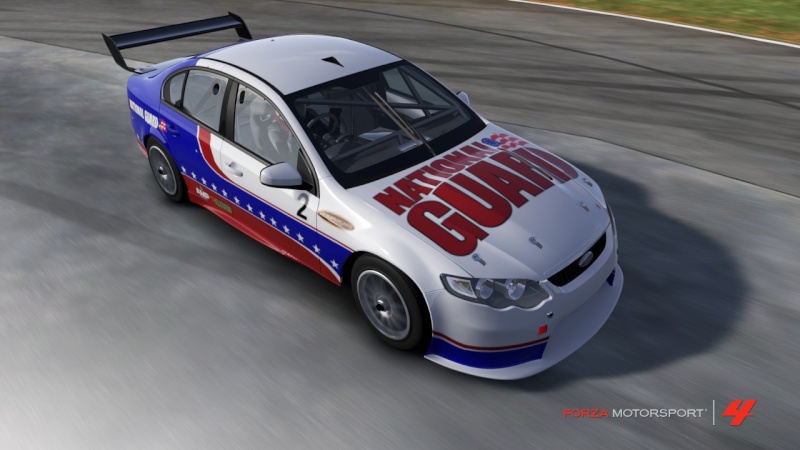 McLaren MP4-12c GT3
I have kinda fallen in love with McLaren over the past few months, and the car I mainly see myself driving in R3 alot is eitehr my F1 GT or my MP4-12c GT3, now I got really acquainted with this car during the ADAC GT Masters, but after that series was over, I still see myself driving this car alot. I never got to run this paintjob during the ADAC Series, so it was kinda awful, but I updated it with my number and some extra sponsors, feels good to actually have a, in my mind, a good looking Mad-Croc paint.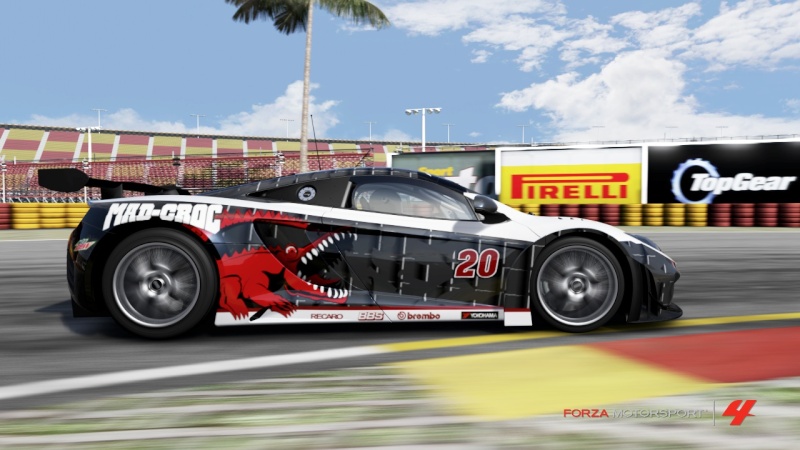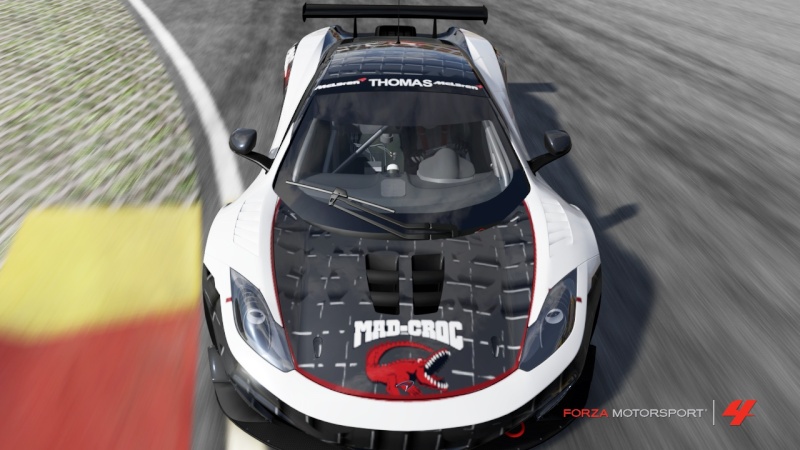 Chevrolet Camaro ZL1
Obviously I went with the SS for the FDC Endurance Series, but if you remember I reviewed this against the Mustang Boss 302 and, well to be honest it wasn't pretty, as the ZL1 thrashed the Mustang. I never really drive this car because of it being in S class, and I got alot of other, more capable cars in S class to do the job, but this is one of my favorite cars to drive, it has so much power but yet has REALLY good suspension and turns rather nicely, very good pickup for anyone who wants a balanced S class car that can handle a tight corner, but have the power for a straightaway(also brand new Rheem design)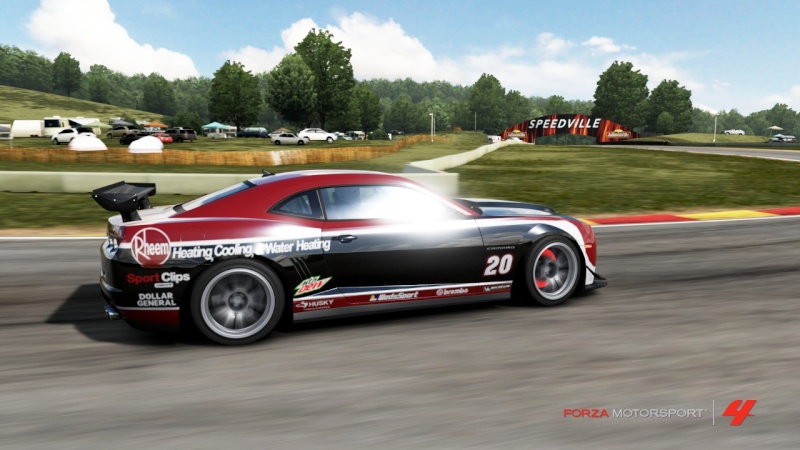 Last edited by CallMehDarkside on Wed May 01, 2013 8:23 pm; edited 2 times in total
_________________________________________________


x DeadTaco x

Painter






Such a simple yet impressive vinyl on the side of the bmw. I see that and know its you - great work

_________________________________________________

RetPetty

Admin





Race Number

: 7



Nice paint Bobbo! Fun to see you first msm car.

Guest

Guest





OP updated to include 3 new cars(2 old 1 new)

National Guard Ford Falcon from Aussie V8

Mad Croc(updated) McLaren MP4-12c GT3

Rheem Camaro ZL1
_________________________________________________

Pictures aren't showing for me mate.
_________________________________________________
2012 & 2013 MSM Champion


SnippetyOggy86

Admin






SnippetyOggy86 wrote:Pictures aren't showing for me mate.
hm..indeed they arent showing for my computer as well, but weird thing is they are showing for my laptop, I'll have a look into it, do you see just a white box with a red X in the middle?
_________________________________________________

I can see all but the second Camaro pic bobbo. Strange indeed.

Plagued Almond




Race Number

: 18



For what it's worth, they're working fine on my PC (not tried my phone). Particularly like the croc one.

B4D B0Y69





CallMehDarkside wrote: [/img]https://i.servimg.com/u/f78/15/48/45/30/rheem_11.png[/img]
Remove the slash in the first bracket.
_________________________________________________
Black Box wrote:I'm designed to be completely fabulous. So is there a way around it?

slasher99999

Test Driver






That camaro is not bad bobbo! Since the door look empty i would put the number bigger and on the door...like nascar paint. Take this as a positive feedback

Guest

Guest






---
Permissions in this forum:
You
cannot
reply to topics in this forum