Our next MSM event!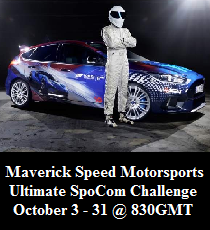 1964 Ferrari 250 GTO
Some of you have probably heard that GTO actually stands for Gran Turismo Omologato, which roughly means homologated or approved for grand-touring race class. Essentially, a race car that is also road legal. I just wanted to clarify that bit up front, because Pontiac boldy applied this name to their own car, apparently having no idea what this actually meant. The Pontiac GTO is a race car in the same way I'm a marathon runner. The Ferrari is the real MacKay.
If you've ever done a cursory image search for a Ferrari 250 GTO, you may have noticed the car offered in Forza 4 looks noticeably different than the car you've found in these pictures:
There's a reason for that, mainly because Turn 10 was a little vague about the 250 GTO they actually have available for you. Thirty-two of the famous Ferrari 250 GTOs were built with the series I body style shown above. It has been hailed as one of the greatest Ferraris of all time by automotive publications like Motor Trend, and frequently appears on many top 10 lists around the world. Personally, that car is my #1 of all automobiles as well. It is not only graceful looking, but a very successful endurance race car.
That's great, but it's not the car in the game, is it? Yes and no. The car selected by Turn 10 for our use is not only a rare car, but rare among even 250 GTOs. There were only three cars built using the series II body in 1964, and four of the original series I body cars were converted to the series II body style. Thus finally we arrive at the car we see in Forza:
This is Ferrari, so there's going to be a little bit of race history here.
Remember how Ford and Shelby decided to take on Ferrari as king of the hill at Le Mans? The series I 250 GTO took 1st and 2nd in the GT class at Le Mans in 1962, then swept the podium in GT class in 1963. In fact, the 250 GTO finished second overall in 1963 placing ahead of many other prototype cars. In 1962 the 330 won overall as well and in 1963 the Ferrari 250P (yet another version of this car) won overall in the new prototype class.
By 1964 Ferrari finally took Ford as a serious threat in the prototypes and put their full effort into that class, sweeping the prototype podium in the process. This meant the GT class cars got less attention though. The 1964 250 GTO with the series II body did not win the GT class at Le Mans, taking 2nd and 3rd instead. It was not a total failure though, as they did win the 1964 World Sportscar Championship season (which now is the FIA World Endurance Championship) versus the Shelby Daytona. Shelby claims some shenanigans by Italy in cancelling the final event, but that's another story.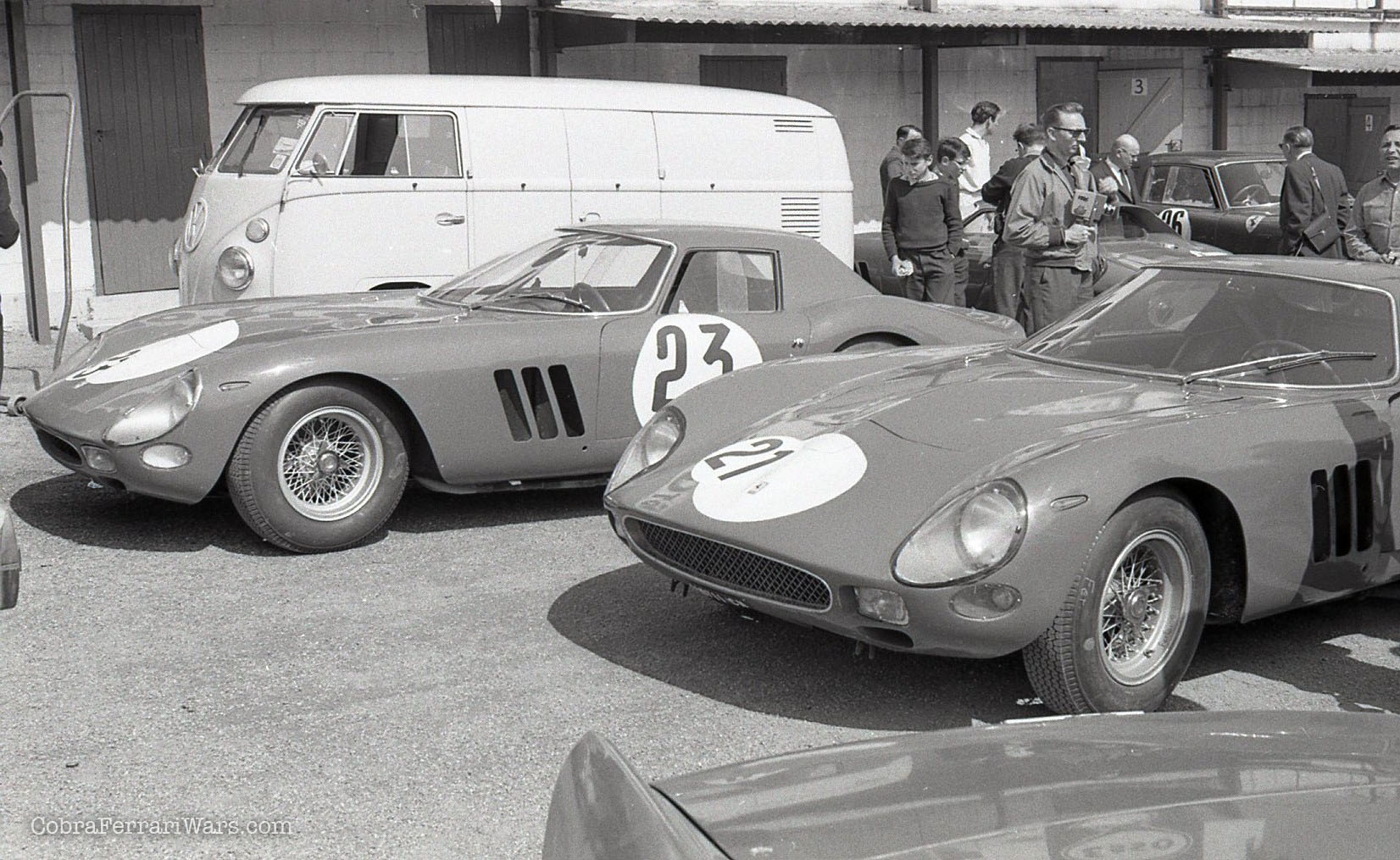 This was the ending of an age for front engine cars at the top of sports car racing. By 1965 Ferrari wasn't even fielding a factory team, but the North American Racing Team (NART) drove the 250LM to an overall victory, which is a mid-engined version of the 250 GTO car. In the GT class they were racing the 275 GTB to class victory. From 1960 to 1965 Ferrari had been the rex of endurance racing, winning most races in TWO classes over the span of 5 years. Of course, by 1966 the Ferrari party was famously over when Ford finally took overall victories.
Now that we've got our minds wrapped around what car we're dealing with, let us focus again on the virtual counterpart in the game. Below are the stock numbers provided by the 1964 Ferrari GTO:
Cost: 10,000,000
Class: B 440
HP: 300
Torque (ftlbs): 216
Weight (lbs): 2479
Distribution: 52%
Displacement: 3.0 L
Drive: RWD
Speed: 6.6
Handling: 4.8
Acceleration: 7
Launch: 5.3
Braking: 4.5
Gears: 5
Okay, yes, this has one of the few holy crap sticker prices of cars in Forza 4. It's 10 million credits, and even with credits easy to come by in FM4 you need to be pretty sure you want this car before you buy it.
Compared to Forza 3, the 250 GTO has gone up quite a bit in PI rating. At first this was a bit of a turn-off for me, because the car was barely useful starting in C class, so one would assume it's going to be severly handicapped by the increase by one whole class. The Shelby Cobra Daytona Coupe is listed up at A 512, so I guess we should be happy the 250 GTO is rated this low in PI.
The raw data above appears to show the car as pretty average in B class, hitting respectable numbers in speed and acceleration in particular. Power to weight ratio is the name of the game with this ride, and among B class cars not named Lotus this is one of the lightest. That shouldn't be a surprise, as it was born and bred for racing. This Ferrari starts with 8.26 pounds per HP. For comparison, a very modern 2010 Camaro SS (B 481) carries 9.14 pounds per HP. This light weight and good hp to weight ratio means the car is fairly solid with little body roll in the corners, and has some decent get-up and go when you put the throttle to the floor.
Where the car begins to fail a bit is in the shoes. Like many pre-1980s cars, the tires are typically narrow. Thankfully, Forza doesn't model actual 60s tire compounds, or we'd be in real trouble. The front tires are of particular concern, as they're only listed as a 195 width. There aren't many other cars in B class with smaller tires, and most of them are Lotus territory again.
When I participated in the Vintage Le Mans series, I drove this car in A class versus other drivers in the Shelby Cobra Daytona Coupe. The Ferrari felt just a little bit slower on the straights, but seemed to have good acceleration out of the corners. That would make sense, seeing as the Daytona starts with 90 more HP and still weighs less. I was competitive with drivers that in general are faster than I am, so I think this is the ideal class for the 1964 Ferrari GTO. I've included my list of upgrades and stats below. The car will also be available in the team garage to try out.
Spoiler:


Race tire compound
Max front and rear tire width
Sport Transmission
Street Driveline
Race Differential
Race Brakes
Race Springs and Dampers
Race fron and rear Anti-rollbars
Race Chassis and cage
Race weight reduction
Race Air filter
Race Ignition
Race Valves
Race pistons and Compression
Race oil and cooling
Sport Flywheel

Class: A 600
HP: 356
Torque (ftlbs): 256
Weight (lbs): 2,222
Distribution: 52%
Displacement: 3.0 L
Drive: RWD
Speed: 7.4
Handling: 6.3
Acceleration: 7.9
Launch: 6.6
Braking: 6.6
Gears: 5

Last edited by Dominic Mako on Sun May 06, 2012 1:52 am; edited 1 time in total
_________________________________________________


Dominic Mako

Admin





Race Number

: 32



Great review, firstly i'm liking the fact that your not biased towards 1 manufacturer or body/class type. Secondly why did they not include the series 1 body, imo that car is far greater looking that the 1 we have in forza today. Will probably give this a try as mine doesn't get to see the light of day.

_________________________________________________
2012 & 2013 MSM Champion


SnippetyOggy86

Admin






great review there bobbo ....... um i mean dom


Guest

Guest





My guess is the series II was included because it was what raced versus the Shelby in the World Sportscar Championship. Besides the series I 250 GTO, there was a version with the engine from the 330. Imagine that engine swap, and it would have been legit! The 250LM was the same car basically, but with the engine mid-mounted. That would have been a great car to have as well.
_________________________________________________


Dominic Mako

Admin





Race Number

: 32



Great review Dom! But to be honest, I prefer the Cobra "Daytona" I think it looks much better and i'm more of an Amercain car fan.
_________________________________________________
Black Box wrote:I'm designed to be completely fabulous. So is there a way around it?

slasher99999

Test Driver






Nice Review Dom sorted alot of the questions that I had wondered on why the included this car as well
_________________________________________________


---
Permissions in this forum:
You
cannot
reply to topics in this forum