Our next MSM event!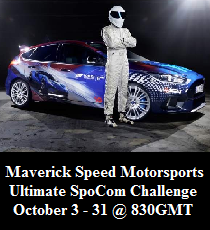 The Hennessey Venom takes the outrageous idea of a huge American engine squeezed into a stretched British chassis originally designed for handling and agility. It's a crazy concept, but it is one that has not only been done before, but to much greater success. I present to you the 1965 Shelby Cobra 427 SC (street/competition):
Rather than focus on this specific car, I'm going to backtrack to how it got to that point. This is really a tale of two cars. The first act opens at AC Cars, a British auto manufacturing group that started making automobiles as early as 1903. Inspired by the Ferrari Barchetta of the early 50s, in 1953 AC Cars produced the Ace. They used a light ladder type tubular frame, independent transverse leaf spring suspension, and an open two seater alloy body.
The small roadster was paired with a very old 2.0L engine capable of... pause for dramatic effect... 100 hp. In 1956, this was upgraded to a whopping 120hp engine. The AC Ace was also raced in various forms at Le Mans from 1957 to 1962, but managed only a best 7th place in 1959. The little British car was simply overwhelmed by cars like the Jaguar D-Type and Ferrari 250 TR.
Now we begin act II. A former flight instructor and test pilot, Carroll Shelby had put together a brief, but successful racing career, winning at Le Mans in 1959 with an Aston Martin DBR1. What a coincidence, as the AC Ace had its best finish in 1959. Could it be fate? His racing career came to an abrupt end in October that same year due to a heart condition, but this would not be the end of his involvement in motor racing.
Carroll obtained an import license, and in 1962 convinced AC to modify the hand-built chassis that would wedge in a larger Ford V8. The changes also included a different grill opening, extra room for rack and pinion steering from the MGB, steering column from a Beetle, upgraded brakes from a Jaguar E-Type, and a stronger rear differential to handle the additional power. When the car arrived in Carroll Shelby's garage, all he needed to do was drop in the engine, thus giving birth to the first AC Cobra. Most were fitted with the 4.3L engine, but 51 cars were gifted the 289 cu.in. engine instead (4.7L):
GM was moving forward with their Grand Sport Corvette for competition, and although the Cobra was yielding 100hp to the Corvette, the British-American challenger was up for the fight. The smaller engined AC Cobra famously won its debut race at Riverside in 1962. They managed to win the U.S. Road Racing Championships in 1963 and 1964.
Although they put GM in the rearview mirrors, unfortunately it was not able to stand up to the Ferrari 250 GTO in international competition. This was partly due to the aerodynamics of a hardtop roadster designed in the early 50s versus the sleek Ferrari's shape. Additionally, it had a nasty habit of not finishing races. The faults and foibles of the AC Cobra led directly to the development of the Shelby Cobra Daytona, which used most of the elements of the AC Cobra in its design. That car, of course, went on to win many international competitions and eventually toppled Ferrari.
Before that all happens though we arrive in 1965, where Shelby is hoping to produce 100 copies of the newest Cobra with a massive 427 cu in (7.0L) engine, capable of 425 hp while still weighing in almost 500 lbs lighter than the Corvette. This version is most famous for monster acceleration numbers, reaching 0 - 60 in just over 4 seconds. That's supercar territory with today's cars. Few of these Cobras were sold, however, and so they were remade into S/C versions for sale. Private owners won SCCA A-Production championships with this car each year from 1965 to 1969, and again in 1973.
Funny enough, financially the Cobra in its various iterations was a bit of a flop. They never really sold as many as they had hoped. It was only over time that the car gained iconic status, and now you can't touch a mint Shelby Cobra for under $1 million. The AC car company still exists, and makes pseudo-reproductions of the original Cobra. Let us transition into the car available in Forza:
Price: 1,500,000cr
Class: A 503
HP: 425
Torque (ftlbs): 500
Weight (lbs): 2,350
Distribution: 52%
Displacement: 7.0L
Drive: RWD
Speed: 5.7
Handling: 4.6
Acceleration: 8.1
Launch: 7.0
Braking: 4.5
Gears: 4
Competition-wise, the smaller 4.3L engined car was more successful, and the 4.7L engine was used in the Daytona, but the 427 7.0L has gained mythical status in America, and so that's the car we get here. Just how good was the Shelby Cobra 427 SC in the 1960s? Consider that in Forza, other than the Shelby Daytona that is based on this vehicle anyway, the next car to start in A class by year is the 1984 Ferrari 288 GTO. Even the Ferrari 250 GTO is in B class. What this means is that nothing stock from this time frame is anywhere close to the PI of this car, and it's mainly all due to one factor - acceleration.
For a car from the 60s the Cobra puts together insane hp, torque, and weight figures. Remember when I bragged in a previous review that the 250 GTO had just over 8 pounds per hp? There are 5.5 hp per pound on this car! An underrated element provided by muscle cars is the incredible torque these engines produced, and turning 500 ftlbs of torque is why the Cobra can achieve such high speeds on the straights. In real life, stepping on the throttle would twist the entire frame from side to side under that power.
So why isn't everyone driving this beast? Well, the handling isn't just sorta bad. It's super bad. It's actually worse than the 4.6 number would indicate. The car rolls and pitches everywhere, while the tires are hopelessly overpowered by the engine. You can try to upgrade the car to the top of A class, adding suspension, tire, and rollcage upgrades. That will all make it somewhat useful. For most drivers, that is the best bet.
I took a different approach and bent the rules by downgrading the car into B Class. By doing this, I was able to use that crazy acceleration in a lower class, but you really have to hang on for dear life on any turns. The stock gear rations are long, but not too long. You'll almost never hit the end of fourth gear, and in low speed turns you can grab first and still throttle up without much protest from the tires if you're careful.
I've been able to post a time on Sebring at 616, Road Atlanta at 929, and 322 Sunset Club on the overall leaderboards. Those aren't earth-shattering times, but I think people would be surprised to see you bust out such a car and still win. I will confess this makes the car only useable to experienced drivers though. Novice drivers will find it totally uncontrollable.
I have my car's stats below. The car will be available in the team garage for a couple weeks.
Spoiler:



Class: B500
HP: 425
Torque (ftlbs): 500
Weight (lbs): 2,405
Distribution: 52%
Displacement: 7.0L
Drive: RWD
Speed: 5.7
Handling: 4.6
Acceleration: 8.1
Launch: 7.0
Braking: 4.7
Gears: 4


_________________________________________________


Dominic Mako

Admin





Race Number

: 32



Definately giving this a shot

8.1 accel in b sounds too crazy to pass in hehe
_________________________________________________


RetPetty

Admin





Race Number

: 7



I'll give it a whirl Dom. See if I can better your time's.

Great review. I watched a Carrol Shelby documentary last week.

He was one of the oldest survivors of a heart transplant.

He had a real bad taste in his mouth regarding Enzo Ferrari. He didn't like the way Enzo treated his drivers. Quoted as saying " If Enzo could build a car that could win without a driver, he would have" --- something like that, its close.

Carrol was scooped up by FORD to finish developing ( refine ) the GT40MKII. It was not until Carrol came on board that FORD won Le Mans. I believe it was a 1,2,3 finish for FORD with the true race leader losing to his teamate due to their 1,2,3 photo finish strategy.
_________________________________________________

Clark GriswoId




Race Number

: 3



Your reviews are amazing everyweek Dom! The cars you review are not everyday cars they are all unique! Great Job

Plagued Almond




Race Number

: 18



IFAMILYGUY11 wrote:Your reviews are amazing everyweek Dom! The cars you review are not everyday cars they are all unique! Great Job
way to kiss ass


Guest

Guest





Also, for endurance races, thr Daytona used the 289 from the Mustang.
_________________________________________________
Black Box wrote:I'm designed to be completely fabulous. So is there a way around it?

slasher99999

Test Driver







Guest

Guest





I put in more laps at Sunset Club and got it down to #218 on the leaderboards. I'm pretty sure that's the highest car I have on any leaderboard in any class. See, it's so easy a caveman can do it!
_________________________________________________


Dominic Mako

Admin





Race Number

: 32




---
Permissions in this forum:
You
cannot
reply to topics in this forum