Our next MSM event!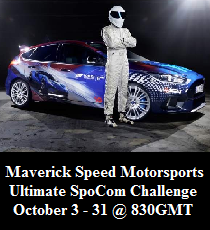 The Blog of Bobbo is back!!!!!! *cheers*, anyway. Before I get started I just wanna personally thank everyone for their patience and support of me through a tough time, basically my mom and wife to be weren't getting along, which put me in the middle, which in turn made me about bald. But that's a different story for a different day, right now I'm back and I am here to review a car for the first time in I believe over a month. This is the car I will be reviewing.
The Vauxhall Corsa(or known as Opel Corsa) is a super mini that has been produced and engineered by the German automaker Opel since 1982 and has also been sold under a variety of other brand names, mainly from the GM line which also include Chevrolet and Holden.
The car was launched by Opel as I stated above in 1982 as a replacement for the Opel Cadet City C(no, not Oliver, he was the City A model). The first generation had various models from a 1.0 L engine producing a whopping 45 horsepower to a 1.4 Liter producing 75 horsepower. But for this review, I will only be focusing on the one in Forza 4 which is the VXR from Vauxhall. The one the game uses has a 1.6 Liter Single Turbo Engine putting its power down to the front wheel due to the car being a Front Wheel Drive car. Now here are the stats and good stuff of the car as it comes out of the showroom.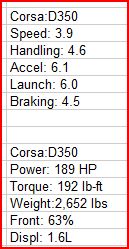 Now this car sits at literally the top of D class at D350 and it is a fairly good price for a top of the line D class car because the car only costs $24,000. So I picked one up and took it onto Catalunya and see how the car drove, and here are the things to tackle with this car.

The car already has 186 horsepower going down to the front wheels, but you wouldn't know it if you didn't see the stats of the car already. There is absolutely no feeling whatsoever of the power being there, the car was just incredibly slow off the line. That or I'm just so used to super cars doing 0-200 faster than this car can do 0-60 it just threw me off. Anyway I took the car into the paddock and did these upgrades to the car.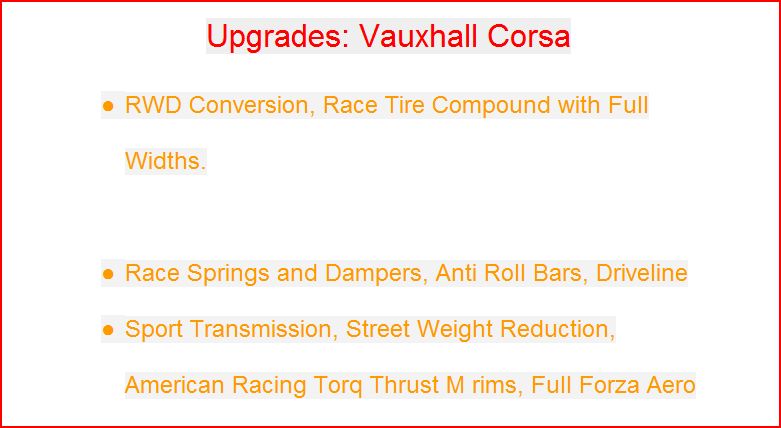 Basically I was watching an episode of Top Gear when I started doing this review and saw that good ol' James May was reviewing a Vauxhall Corsa(which is kind of where I got my inspiration from in the first place) and he was doing a review of the Nurburgring edition of the Corsa, and we all know how much James May just LOVES the Nurburgring, just like a fat kid that loves spinach. So essentially I made an attempt to make this car a RWD version of the Nurburgring edition, while keeping the car in its native D class at D350. So here are the Stats and Good Stuff after I Bobbo-Fied the car.
I am actually quite pleased with the results of this car; I managed to squeeze out more power to the car while maintaining my goal of keeping it in D class. Yes the car is over 200 pounds heavier now that it is RWD but once I added the RWD conversion and dropped a roll cage in the car it made the car have nearly perfect weight distribution at 51%.
I drove the car back around Catalunya and felt much better with the car as I could now finally slide the car around the track and maintain the slide with a dab of throttle to balance out the car. So I put a very basic setup on the car and decided that I was going to drive it around the 5 new test tracks. Now due to me not wanting to show you my very incomplete leaderboard, I have decided I am only going to show the Corsa's time(besides, do you guys really want to see how much slower a D class car is compared to a BMW M1 in B class? I didn't think so) so the track list in order are the following: Catalunya, Mugello, Nurburgring GP, Road America, Suzuka.

In conclusion, I didn't like this Vauxhall Corsa in the beginning due to the FWD and lack of power making the wheels spin for a good launch. But after I tweaked it and gave the car one fair shot, I eventually grew to like the car. Anyway, announcement time!
As I said before, I have changed all the test but 1 of my test tracks(Catalunya). Now with my next review, this will be of a Porsche 911 GT2 RS. I will unveil finally where all the cars placed in my new LB. I would have gotten them done this review, but with all the stuff going on with my personal life, the Aussie V8 Series, Blancpain, etc etc. I haven't really had the time to get a review done, so now starting next week I will try my best to get the review done by no later than Saturday, so expect my review for the time being to be pushed back(or forward, depend on how you look at it due to me posting my reviews on Sundays) to the middle of the week(I will try and aim for Wednesday-Friday area) Anyway, that is my review, thanks for reading, hope this makes up for the time I haven't posted a review and once again, thank you

_________________________________________________

Nice review Bobbo! Thank for the picture


Guest

Guest





Antother review about a car I like soo much i own it

But I put mine C Class and it is not as competitive, so Im going to put back into D class and see if that changes it thanks to you Bobbo!

GRRRRREAT REVIEW!

Plagued Almond




Race Number

: 18



nice review

shame that FWDs have been nerfed so much FWDs hatches were a lot of fun in Forza 3

Guest

Guest





Nice, i've also got a Corsa but havn't driven it in a while. Firstly Bobbo, as you didn't compare it to any of the others cars you've tested maybe you could have compared it with other members D class cars at said tracks. if Truth be told i'm also not a massive fan of drivetrain swaps, i have my corsa up in B class and its still FWD, and still competitive. Having said that, if you wanted to keep it in D class and want some PI to play with then swapping was your only option. Good review overall bobbo and nice to see something other than a supercar.

_________________________________________________
2012 & 2013 MSM Champion


SnippetyOggy86

Admin






Snips I use(d) it in C class but it just didn't compete. How is it in B class?

Plagued Almond




Race Number

: 18



It's not Mega quick but its capable of winning lobbies on the short tracks
_________________________________________________
2012 & 2013 MSM Champion


SnippetyOggy86

Admin






Ah good to know

I haven't driven it in a LONG TIME due to that.

glad this has given it another reason to get out of the garage again


Plagued Almond




Race Number

: 18




---
Permissions in this forum:
You
cannot
reply to topics in this forum