Our next MSM event!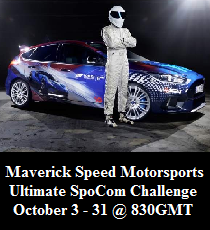 Classification:
Make - Ferrari
Model - 512 Testarossa
Year - 1991
Class/PI - A600
Vitals:
HP - 425
Torque - 363
Weight(lbs) - 2962 lbs
Distribution - 44%
Displacement - 4.9L
Drive Type - RWD
Statistics:
Speed - 7.6
Handling - 6.4
Accel - 7.8
Launch - 7.3
Braking - 6.6
Benchmark:
0-60 - 3.742
0-100 - 8.989
1/4 Mile -
Lat G 60 - 1.12
Lat G 120 - 1.11
Key Upgrades:
Race Weight Reduction
Race Tires & Full Width
Additional Comments:
This car is fitted with no aero, no roll cage, and the stock transmission, yet the handling is very predictable, and the gears seem to fit in with the power in a very complimentary fashion. Good thing, because at 425 Hp, there aren't many ponies to spare in A class. If there's any weakness to this car, it's that there's not enough power to run with the huge muscle cars, but not enough handling to earn money on every turn with the Lotus. However, it is decent enough at everything that you'll be able to hold your own in any environment. My favorite part about this car is that you can drop into 2nd and 1st gear exiting the turn without any wheelspin, and there's still the traction to put that acceleration to use. To date, this car has my fastest time on Catalunya.
Pictures:
_________________________________________________


Dominic Mako

Admin





Race Number

: 32



This car is excellent as a non aero, stock suspension car. Really, how is this possible?? You can be brutal on the steering, brutal on the throttle and it still doesn't give up. It has very long gears, 4th gear is the highest you'll need on most tracks, but it still accelerates well. And the faster you go, the more advantage you have over the aero cars on the straights. Great car, will drive it again!
_________________________________________________

Othelion




Race Number

: 23




---
Permissions in this forum:
You
cannot
reply to topics in this forum