Our next MSM event!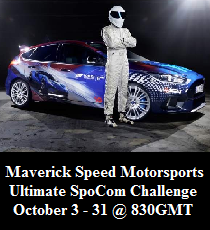 Classification:
Make - Honda
Model - Lola
Year - 2011
Class/PI - R1/998
Vitals:
HP - 556hp
Torque - 501 lb-ft
Weight(lbs) - 1,829lbs
Distribution - 45% Front
Displacement - 2.8L
Drive Type - RWD
Statistics:
Speed - 9.6
Handling - 10
Accel - 9.9
Launch - 8.7
Braking - 10.0
Benchmark:
0-60 - 2.983 seconds
0-100 - 5.463 seconds
1/4 Mile - 10.434 @157mph
Lat G 60 - 1.42
Lat G 120 - 1.95
Key Upgrades:
Remove Restrictors
360/30R18 Front Tires
370/30R18 Rear Tires
Additional Comments:
Atm this is my second winningest LMP car. I plan to make it my first very soon. Handles extremely well, grips corners hard. Current tune has mild transitional oversteer on corner exit but it is very manageable especially once you get used to it. Top speed on the first section of Mulsanne clocks in at about 218-219mph depending on the run out of the preceding corner. This car holds my records at Indianapolis and Hockenheim, both of which are my primary test tracks. The only LMP cars that are superior to the Lola IMO are the 905c and 787b. The 908 can give it a run for its money but a skilled driver can make up for the lack of torque in the corners. This particular car and tune will be competing in the World Endurance Championship, however possibly in a different paint.
Picture(s):

Guest

Guest






---
Permissions in this forum:
You
cannot
reply to topics in this forum