Our next MSM event!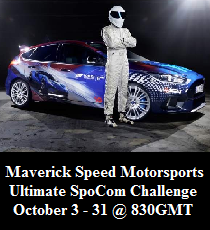 Classification:
Make - Alfa Romeo
Model - Montreal
Year - 1970
Class/PI - B500
Vitals:
HP - 262
Torque - 228
Weight(lbs) - 2 388
Distribution - 52% front
Displacement - 2.7
Drive Type - RWD
Statistics:
Speed - 4.3
Handling - 6.1
Accel - 7.1
Launch - 6.5
Braking - 6.7
Benchmark:
0-60 - 5.122
0-100 - 12.954
1/4 Mile -
Lat G 60 - 1.08
Lat G 120 - 1.10
Key Upgrades:
Race tires, full width, race weight reduction, full aero
Additional Comments:
Not only is this a very fun car to drive, it's also quick. With its low weight and high focus on handling upgrades, it is best suited for the short and medium tracks. Despite its low top speed, it still performs great on tracks like Catalunya. I'm not the best advertiser, and not the quickest either to back things up with times, but give it a spin and it'll convince you I hope.
Pictures:
_________________________________________________

Othelion




Race Number

: 23



Nice paint job too. Anychance i could get a copy of the tune pls?
_________________________________________________


RetPetty

Admin





Race Number

: 7



I love this car for the name! I'm from Quebec City and 2 hours away from Montreal. I go there often to see the Montreal canadiens. In the past, we had the Montréal Expos Baseball Club but it's gone. I also assisted to 3 Gp of Canada there on the "Parc Jean Drapeau" (île-Ste-Helene + île Notre-Dame)

I also tryed the Jacque Villeneuve's Restaurant, The Newtown on Crescent Street.. It's really expensive for a piece a shit in a plate that not worth it but...I love Jacques anyway! lol

Guest

Guest





Ouais, la première fois que j'ai vu le nom chu resté l'air bête!
Et oui, je suis de Montréal.
On se voit sur la piste


Guest

Guest





Hey hey salut l'ami! J'ai eu un p'tit problème avec l'heure pour le GT500 mais je compte me reprendre... J'tenvoie une demande d'amis tout de suite

Yakupov ou Grigorenko..? lol

A+ sur le tarmac!

Guest

Guest





So, this car is amazing!!! Very well done Othelion, I might owe you 100,000 for the mad money I just won using this car for 2 hours in public lobbies.

ShiftyNoBrakes





Glad you like the car, thanks alot! I took it through some lobbies yesterday as well and got podium finishes every time (except when I got wrecked).
_________________________________________________

Othelion




Race Number

: 23



I liked your paint so i'm the one who buy it in your SF... I was looking your photo too but then, I saw the Death and I ran away

Awesome!

Guest

Guest





Haha, that's great. Remember the car is in the garage to race with too. First paint that I sold btw

_________________________________________________

Othelion




Race Number

: 23




---
Permissions in this forum:
You
cannot
reply to topics in this forum